Hiking in Chania is a haven for nature enthusiasts and adventure seekers alike. The superb Crete island, with its stunning landscapes, rugged mountains, and breathtaking coastline, presents a plethora of hiking opportunities to all visitors. Moreover, one of the best places to experience this enchanting blend of adventure and relaxation is by staying at Chrispy Waterpark Resort. Our family resort is located in a remote and peaceful area and offers convenient proximity to Chania's prime sights in Crete, ensuring easy access to all the top highlights!
This article explores the joy of hiking in Chania while enjoying the comfort and amenities of our hotel.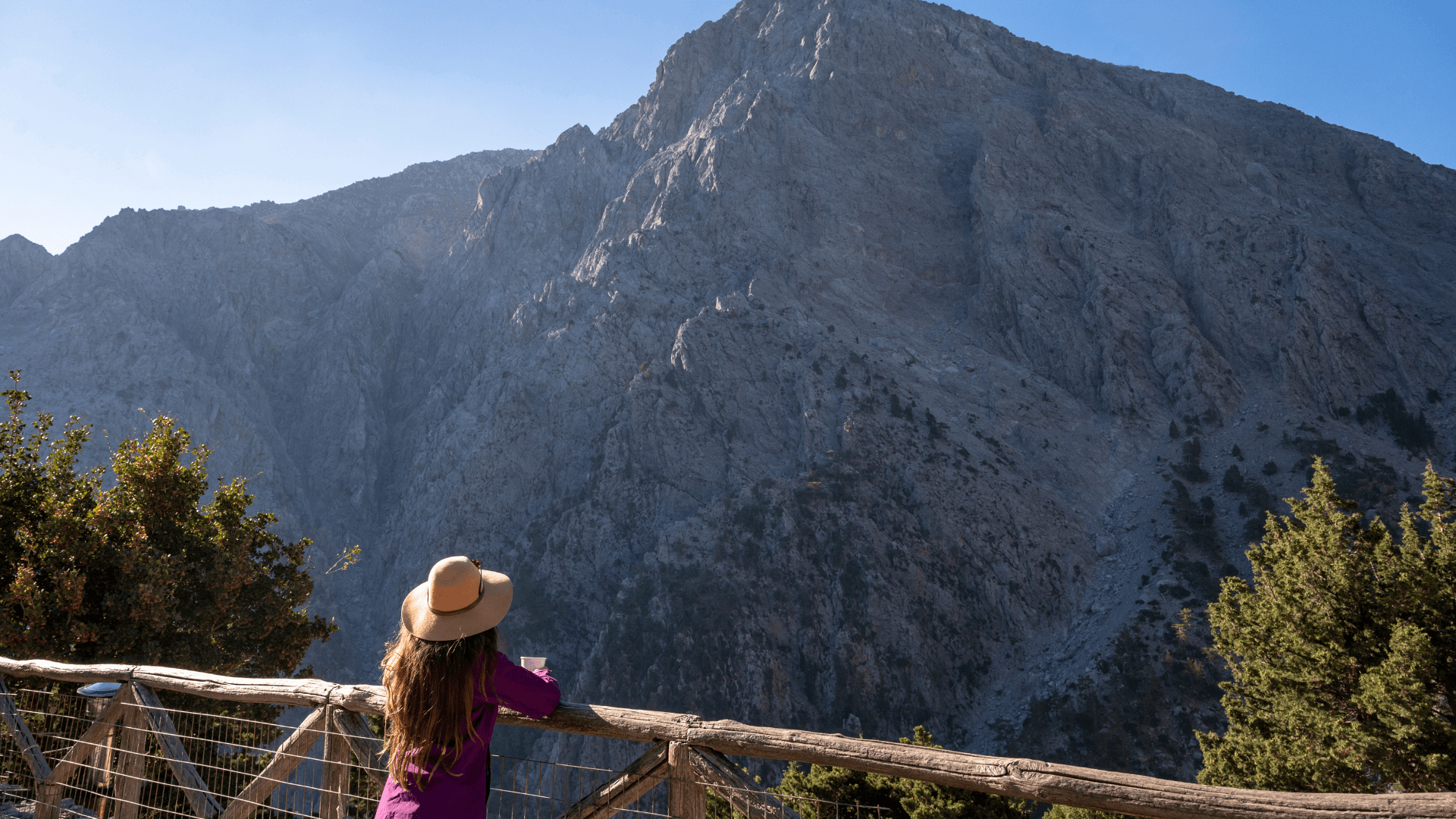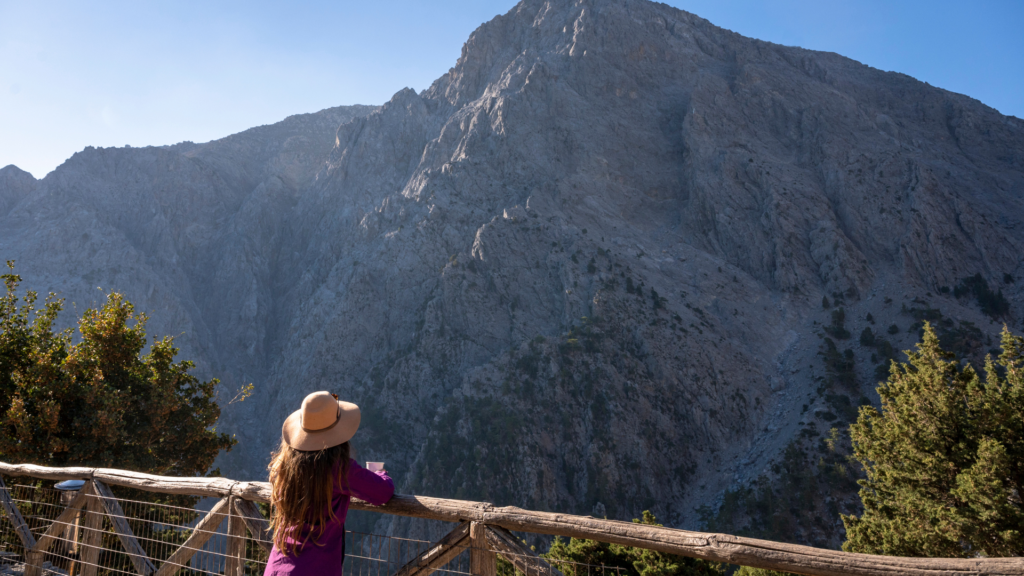 Picture by: stockstudioX
Discovering Chania's Hiking Trails
Firstly, Chania boasts a diverse range of hiking trails that cater to various fitness levels and interests. Whether you're a seasoned hiker looking for a challenging ascent or a casual trekker seeking panoramic views, there's something for everyone. Let's see some of the most popular choices that attract thousands of visitors annually.
Samaria Gorge: A trip to Chania would be incomplete without exploring the world-famous Samaria Gorge. As one of Europe's longest gorges, it offers a unique experience through a rugged and dramatic landscape. Additionally, the hike begins at the Omalos Plateau and takes you through a gorge that's flanked by cliffs reaching up to 1,000 meters in height. The trail is approximately 16 kilometers long, and it culminates at the coastal village of Agia Roumeli, where you can cool off with a refreshing swim in the Libyan Sea.
Imbros Gorge: If you're looking for a slightly easier trek than Samaria Gorge but still want to be captivated by breathtaking scenery, the Imbros Gorge is an excellent choice. This gorge is shorter and less physically demanding, making it suitable for families and novice hikers. Also, the trail winds through impressive rock formations and charming Cretan villages, offering a glimpse into the island's rural life.
Lefka Ori (White Mountains): For experienced hikers, the Lefka Ori mountain range provides an array of challenging routes. These mountains offer an opportunity to escape the crowds and immerse yourself in a wilderness of rare flora and fauna. The hike to the summit of Mount Pachnes rewards you with panoramic views of Crete and the surrounding islands.
If you want to learn more information about hiking in Crete, you can read this article.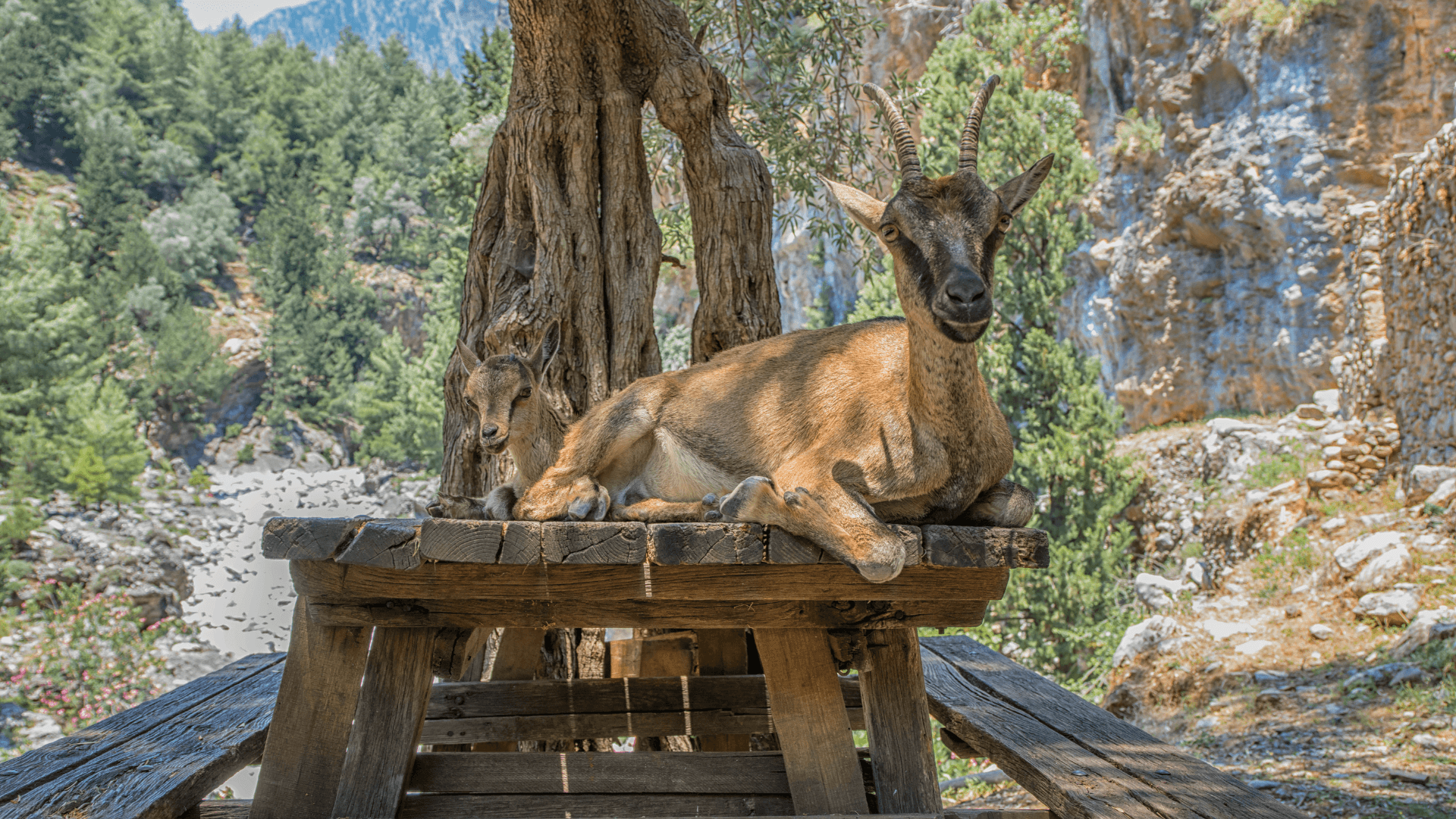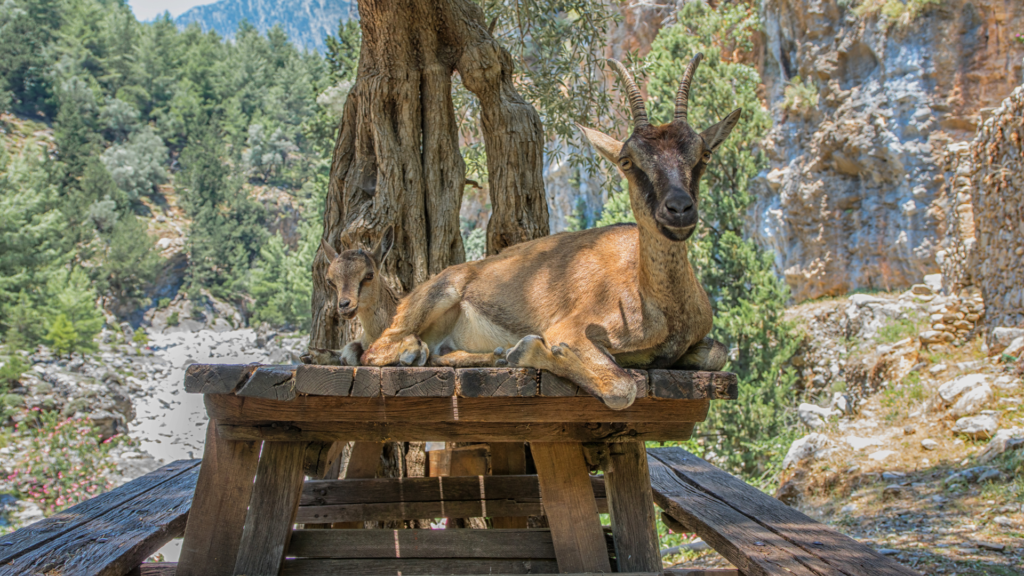 Picture by: Tadej Stepisnik
Hiking in Chania – Essential Tips
Hiking in Chania offers a truly exhilarating experience. Yet, before embarking on this thrilling adventure, it's essential to bear in mind a few key considerations. By following these hiking tips, you'll be well-prepared to explore Chania's natural wonders while ensuring your safety and preserving the pristine beauty of the environment.
Plan Your Hike: Before setting out on a hike, research the trails in details and choose one that matches your fitness level and interests. Also, obtain information on trail difficulty, length, and estimated time to complete. It's very important to let someone know your planned route and expected return time, especially if you're hiking alone.
Furthermore, weather conditions can change rapidly, so always check the weather forecast before your hike. Dress appropriately and bring extra layers in case of sudden temperature drops. Avoid hiking during extreme weather conditions like extreme heat, heavy rain or thunderstorms.
Wear and Carry Proper Hiking Gear: Invest in comfortable and sturdy hiking boots that provide great support and have good traction. Also, wear moisture-wicking clothing to keep you dry and prevent chafing. You should also pack a small backpack with essential items such as a first aid kit, a map or GPS device, a fully charged phone, extra water, energy snacks, and a multi-tool or knife. Don't forget to wear a wide-brimmed hat and apply sunscreen to protect yourself from the sun.
Stay Hydrated: Carry an adequate amount of water, especially during hot and humid conditions. Drink water regularly to stay hydrated, and consider using a hydration pack or water bottle with a built-in filter to refill from natural water sources if needed.
A Few More Tips When Hiking in Chania..
Respect Nature: Chania's natural landscapes are delicate and unique. Respect the environment by staying on marked trails, not disturbing wildlife, and adhering to Leave No Trace principles. Avoid picking plants, disturbing rocks, or leaving any waste behind.
Chania is home to various wildlife species, some of which might be rare or endangered. Observe wildlife from a distance and avoid feeding or approaching animals. Carry a pair of binoculars to appreciate wildlife without disturbing them
Hike During Daylight Hours: We strongly suggest to start hiking in Chania early in the morning. In this way, you will avoid hiking in the intense midday heat. Be mindful of sunset times to ensure you return before it gets dark.
Whenever possible, hike with a partner or a group. Hiking with others not only enhances the experience but also provides an extra layer of safety in case of emergencies.
Listen to Your Body: Pay attention to your body's signals and take breaks when needed. If you start feeling fatigued, dizzy, or unwell, rest and assess the situation. It's better to turn back or seek help if necessary rather than pushing yourself too far.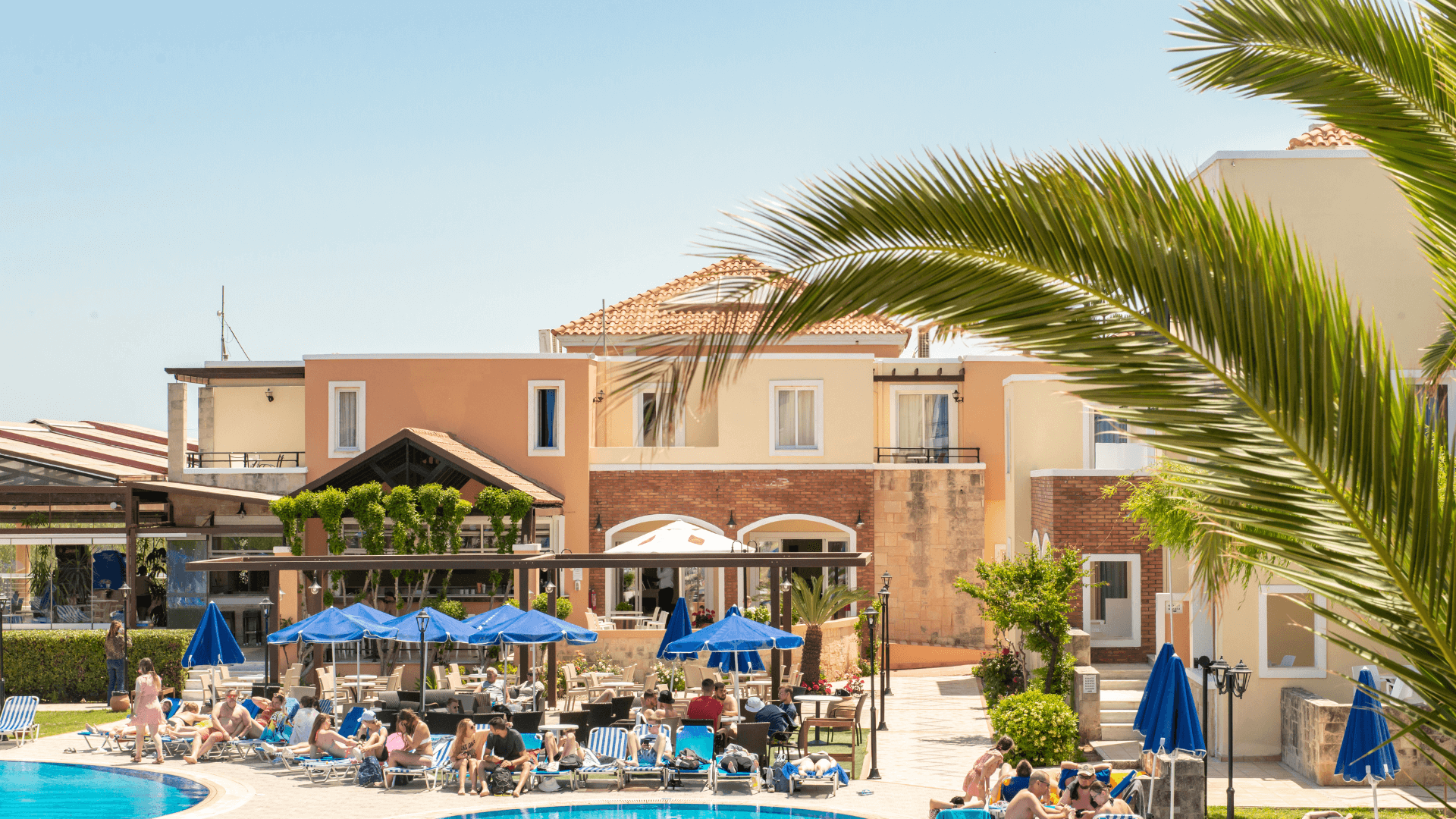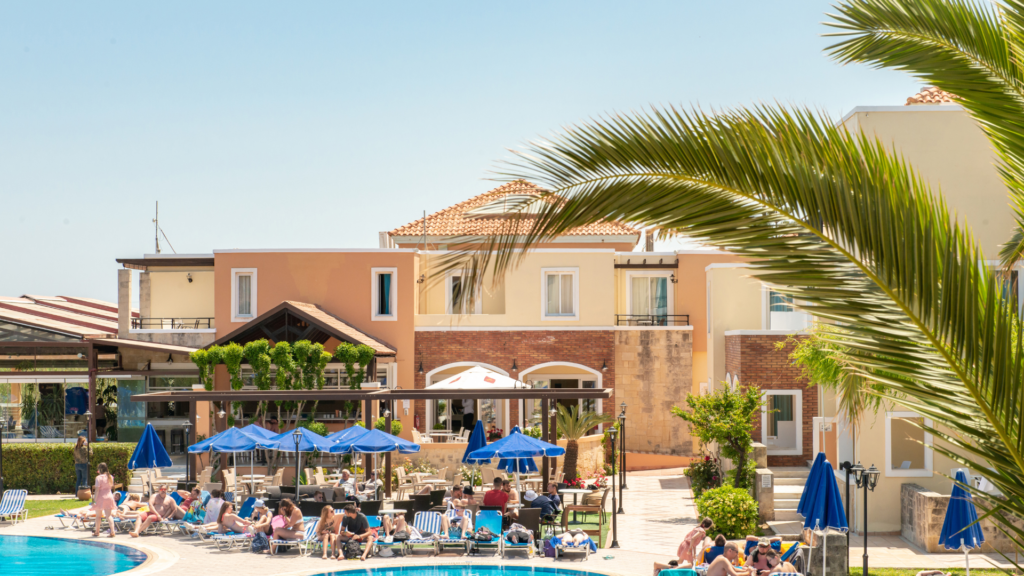 Picture by: Inglelandi Digital Agency
The Comforts of Chrispy Waterpark Resort
After an exhilarating day of hiking in Chania, there's no better place to unwind than Chrispy Waterpark Resort. Situated in the area of Kolymvari, this family-friendly resort provides a welcoming and comfortable atmosphere for all guests.
Accommodation: The resort offers a variety of spacious and well-appointed rooms and suites, catering to different group sizes and preferences. Whether you're traveling solo, with a partner, or as a family, you'll find accommodations that suit your needs. The rooms are designed with modern amenities and tasteful decor, ensuring a relaxing stay.
Waterpark Fun: One of the main highlights of the Chrispy Waterpark Resort is the on-site waterpark. Both children and adults can indulge in a fantastic time with exhilarating water slides, lazy rivers, and refreshing pools. It's the perfect way to unwind and have some fun after a day of hiking.
Dining Options: The resort offers a range of dining options, including restaurants and bars that serve delectable local and international cuisines. After working up an appetite on the trails, you can savor delicious dishes and refreshing drinks while enjoying stunning views of the Cretan landscape.
Conclusion
Combining the joy of hiking in Chania with a stay at our hotel promises a truly unforgettable vacation. Whether you choose to trek through the majestic Samaria Gorge, meander along the Imbros Gorge, or conquer the Lefka Ori mountains, Chania's hiking trails offer an abundance of picturesque landscapes and unforgettable experiences. And with the comfort, amenities, and waterpark fun offered at the Chrispy Waterpark Resort, you have the perfect base to create cherished memories of your Crete adventure. So, pack your hiking boots, grab your camera, and get ready for an exhilarating journey into the heart of nature's beauty in Chania, Crete.