Chrispy Waterpark Resort is family hotel in Crete which offers a hospitable stay and unlimited fun for every age. Specifically, our beach resort located in Chania and provides guests with a wide range of fun activities for both children and adults. Whether you prefer to enjoy your favorite drink by the pool or ride our water slides, the choice lies with you.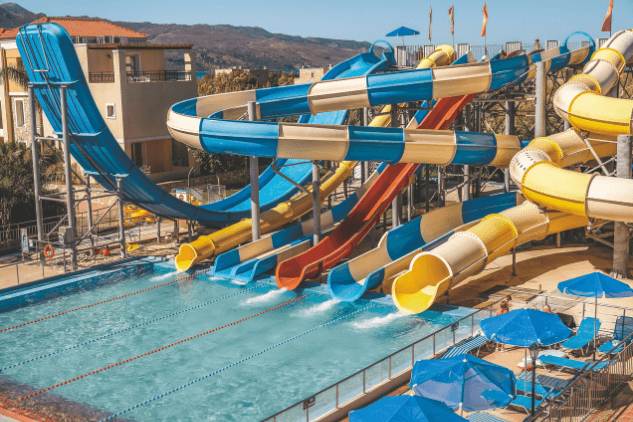 A family hotel in Crete, ideal for every age
Summer is the perfect season for holidays and at Chrispy Waterpark Resort our goal is to maximize your comfort. With that in mind, creating a warm atmosphere and offering exciting activities for every family member is our top priority. For this reason, Chrispy has special waterpark sections for kids, which ensure their safety and promise countless hours of entertainment. After all, fun is for everyone, and especially for the little ones. Additionally, for adults, our large water slides will help you have the time of your life!
There is nothing more exhilarating than going down a water slide, particularly with the help of a round float. The experience of riding a colorful slide and making a splash will bring out the child in you once again. On the other hand, swimming in our spacious swimming pools or soaking up the warm sun will make you compeletely unwind. All these entertaining options make Chrispy Waterpark Resort the perfect family hotel in Crete.
Furthermore, Chrispy Waterpark Resort provides guests with a selection of wonderful activities. Some of them include water polo, water parkour, beach volley, treasure hunting and all sorts of tournaments. But that is not all! If you are into fitness, our daily program includes stretching, aquagym sessions, and dance workouts. Playing and exercising along with your loved ones will prove to be a very engaging process.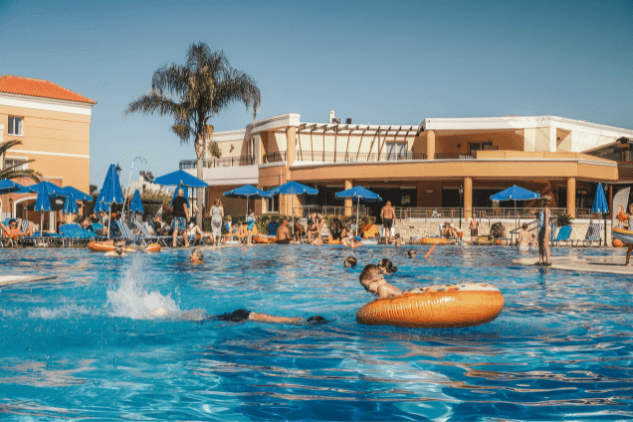 Amenities for a pleasant stay
Our facilities include restaurants and bars with rich buffets and options for every taste. From the American breakfast, and various snacks/sweets to local Cretan delicacies, our menu has everything you wish for. Besides, the famous Mediterranean Diet is well known for its magnificent flavors and healthiness. Also, you can choose the drink which is to your liking and enjoy with your favorite company.
Last but not least, our rooms and the comfort they provide will undoubtedly help you unwind after an exhilarating experience. All you have to do is pick the best one for your needs and let it enhance your holiday spirit. Chrispy Waterpark Resort, being an excellent family hotel in Crete, contains special and spacious family rooms which help you de-stress.