Looking for the ultimate Crete All Inclusive Holidays experience on the beautiful Greek island of Crete? Look no further than the Chrispy Waterpark Resort, located in the breathtaking region of Kolymbari. This stunning resort offers everything you need to enjoy an unforgettable vacation, from luxurious accommodation to a range of fun activities and delicious dining options. Crete is the largest of the Greek islands, renowned for its Mediterranean climate, beautiful scenery, and rich cultural heritage. And what better way to enjoy a stress-free vacation than with an all-inclusive holiday package?
At Chrispy Waterpark Resort, we offer a range of all-inclusive holiday packages to suit every budget and preference. Our packages include accommodation in comfortable and well-appointed rooms, daily meals and snacks, drinks, and access to our fantastic waterpark and other onsite activities.
In this article, we'll explore the benefits of all-inclusive holidays and what to expect when you book with us.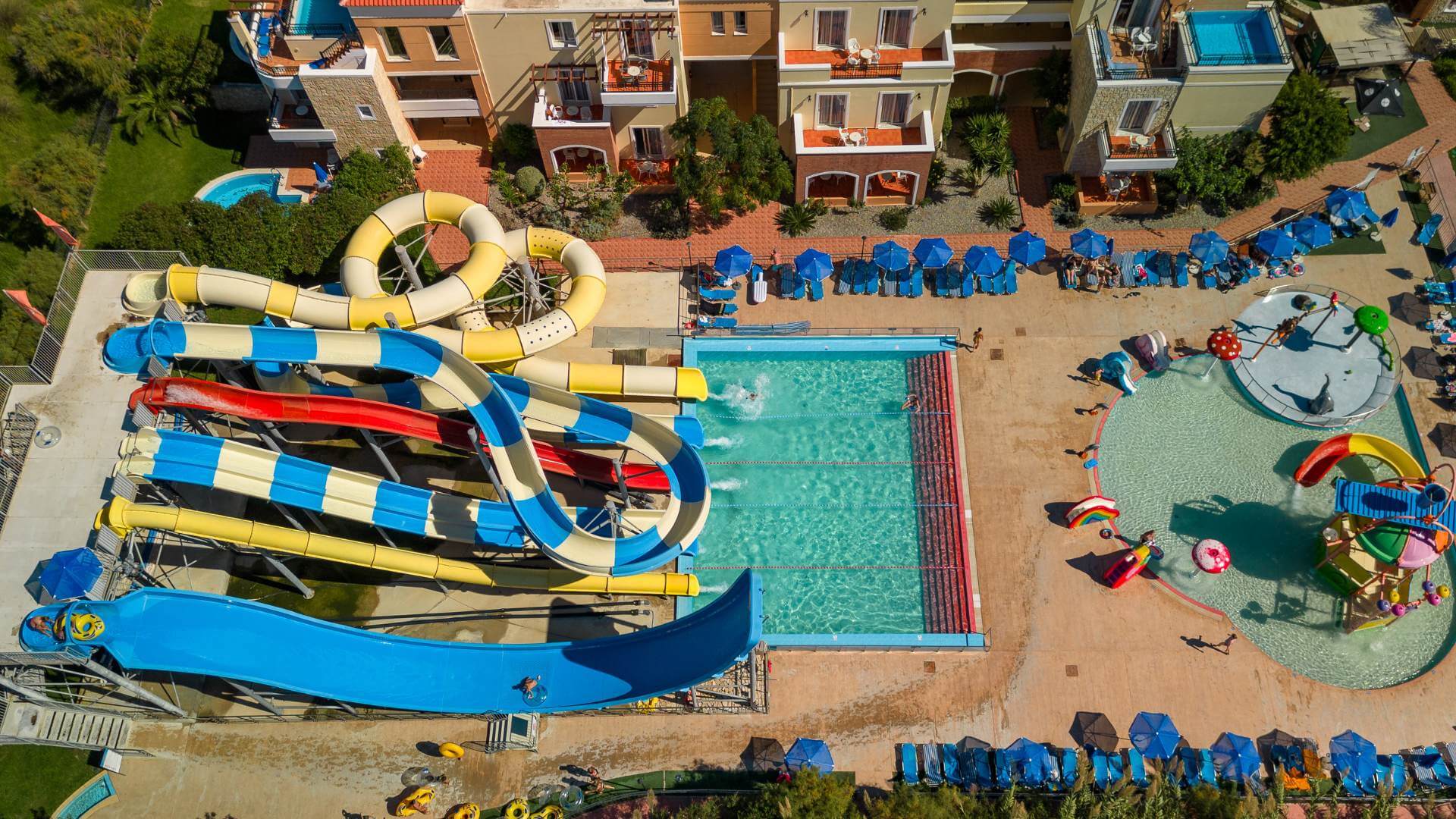 What does our Crete all-inclusive holidays package include?
One of the most appealing aspects of Chrispy Waterpark Resort is the fact that it is an all-inclusive resort. That means that everything you could possibly need or want during your stay is included in the price of your vacation. From meals and drinks to activities and entertainment, this resort has it all! Thus, we strive to help you relax and enjoy your holiday without worrying about a thing.
The resort's all-inclusive package includes three delicious meals a day, as well as snacks and drinks throughout the day. There are several on-site restaurants to choose from, each offering a variety of cuisine to suit all tastes. Whether you're in the mood for traditional Greek food or something a little more international, you're sure to find something that will satisfy your appetite.
In addition to the excellent dining options, the resort also offers a range of activities and entertainment that are all included in the price of your stay. The main attraction, of course, is the water park, which features several thrilling water slides. There is also a separate pool for younger children, ensuring that there is something for everyone to enjoy. Your Crete All-Inclusive Holidays will be absolutely delightful at our family resort.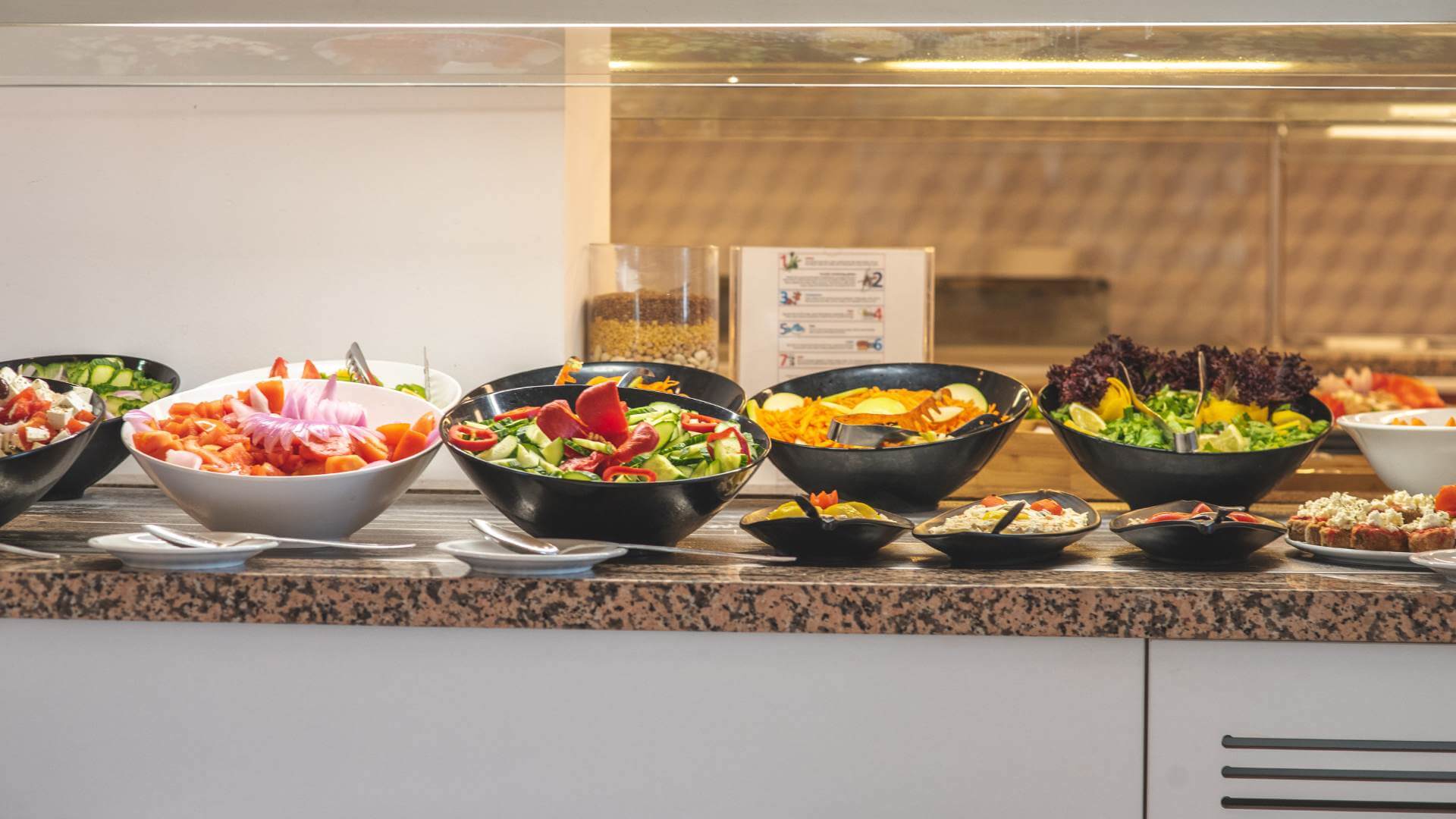 Enjoy Chania all inclusive benefits
Our Crete all inclusive holidays program offers a variety of options for dining and snacking. Guests can start their day at the "Afroditi" Main Restaurant, where an American breakfast buffet with is available from 7:00 am to 10:00 am. Late breakfast is served from 10:00 am to 10:30 am for those who prefer a more relaxed morning. For lunch and dinner, guests can enjoy the buffet at the restaurant from 12:30 pm to 3:00 pm and 6:00 pm to 9:30 pm, respectively.
Additionally, if you're looking for snacks throughout the day, the "Splash Park" is open from 10:00 am to 6:00 pm, offering a wide selection of sandwiches, desserts, soft drinks, and juices.
For those who want to relax with a drink, the "Poseidon" Main Bar is available from 9:00 am to midnight. The bar serves coffee, soft drinks, and local drinks such as woman and ouzo. The Main Bar offers alcoholic drinks up until midnight. Thus, more drinks are provided starting at 1:00 pm, while cocktails are available from 6:00 pm onwards.
All these services are included in our all-inclusive program, which means that guests can enjoy all these amenities without additional charges. Therefore, it is the perfect package for those who want to have a stress-free and enjoyable vacation.
For guests who would like to taste local delicacies, Greek Taverna "Manolis' remains open from 18.30 till 22.00. One free meal per week is available for all inclusive members, upon reservation at the reception desk.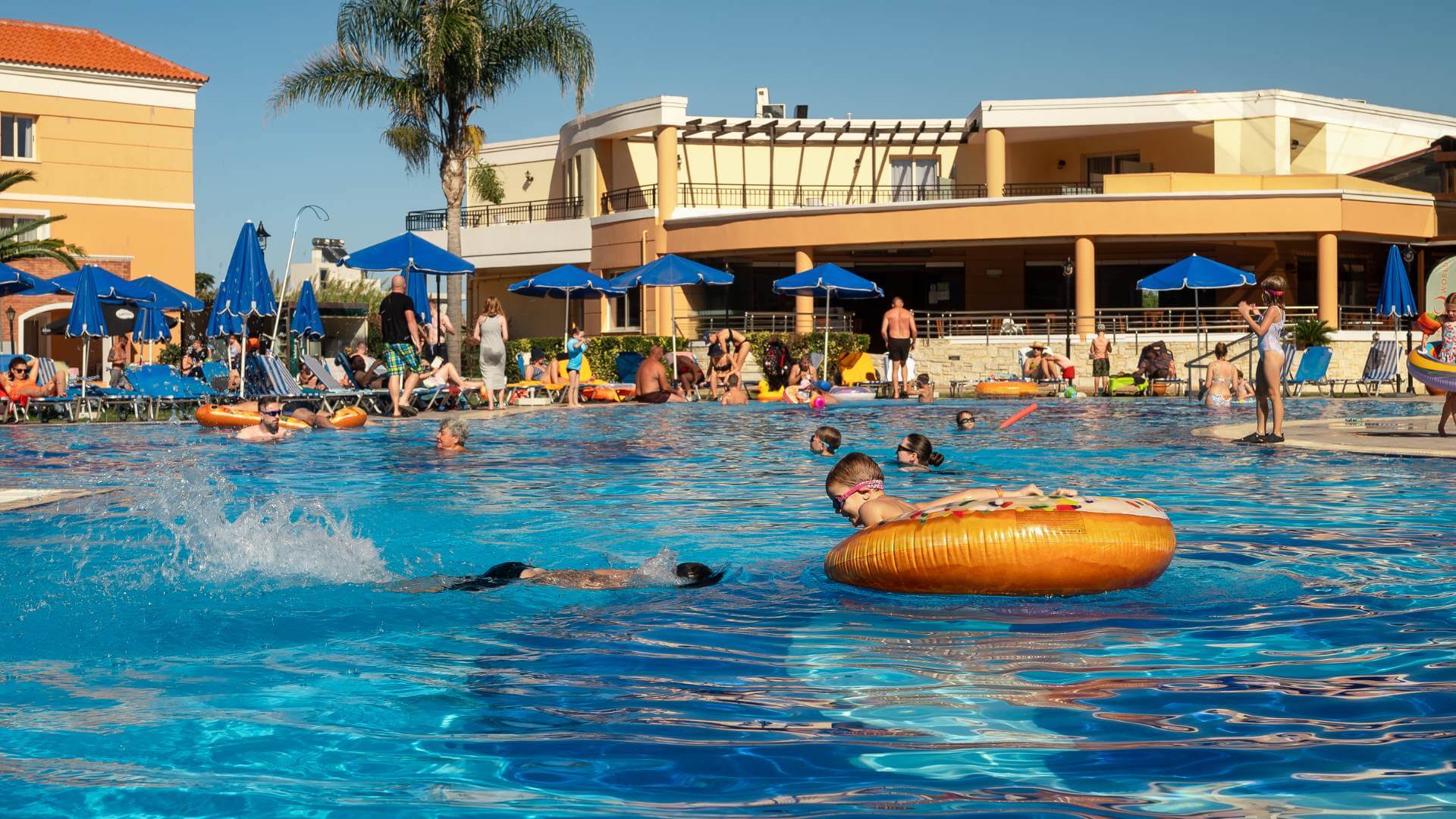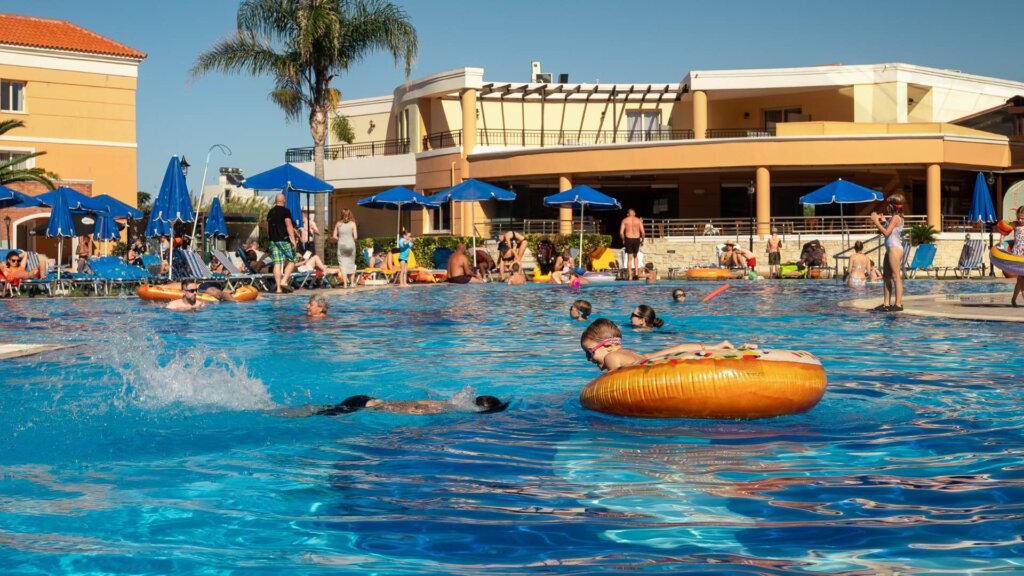 Entertainment for every age
If you're planning a holiday to Crete with your family, then Chrispy Waterpark Resort is the perfect destination. Our resort boasts spacious swimming pools that are open from 9:00 AM to 8:00 PM, providing you with the perfect opportunity to relax and unwind during your stay.
For the adventure seekers, our waterpark is open daily from 10:00 AM to 6:00 PM, featuring colorful slides that are sure to get your adrenaline pumping. Whether you're a child or an adult, our waterpark has something for everyone.
At Chrispy Waterpark Resort, we understand that family vacations are all about creating lasting memories with your loved ones. That's why we offer a range of special activities for children to keep them happy and engaged throughout their stay. Our children's swimming pool and waterpark section ensure that your little ones can play and splash around in complete safety.
Moreover, our resort features a children's playground where kids can run around and have fun. With so many exciting activities and amenities available, you can sit back and let us take care of the rest. At Chrispy Waterpark Resort, we are committed to making your family vacation truly unforgettable.
Conclusion
In summary, our resort's Crete all inclusive holidays stay is an ideal vacation option! Anyone who seeks for a perfect balance of relaxation and excitement, will definitely have a great time! With its fantastic dining options, thrilling activities and luxurious amenities, it is a vacation destination that is sure to leave a lasting impression.
If you would like to learn more about Chrispy and the lovely Crete island, check out our blog posts here.