Cretan gastronomy, one of the reasons to visit the beautiful island of Crete! When it comes to Cretan food, there are three main features that characterize it: aromas, purity, freshness. Its uniqueness lies at the blessed island of Crete that offers fresh ingredients rich in flavor and taste. So, apart from the magnificent history and ancient culture, the natural landscapes and the hospitable inhabitants, Crete attracts millions of visitors for its gastronomy.
If you are interested in coming holidays in our beautiful island, keep reading the article below and find more about the ingredients and the philosophy of Cretan food.
Why is Cretan cuisine so special?
To begin with, it is worldwide known that the island offers one of the most important products, the olive oil. The Cretan diet is based on the pure organic olive oil that Cretan people produce every year. Even more, it is the greatest secret that keep the longevity of the inhabitants. The island has more than 30 million olive trees, producing extra virgin olive oil. Normally every household produce its olive oil, while there are several olive oil producers offering tasting tours.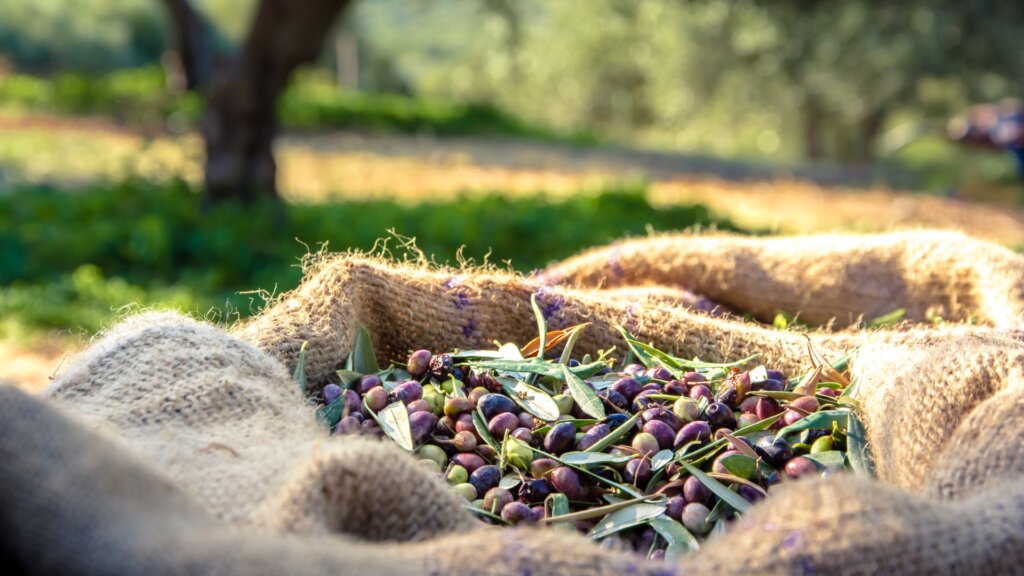 Moreover, Cretan land is so rich and a botanical paradise. It contains numerous species of plants and herbs, like oregano, thyme, rosemary and mint, while Cretans use daily mountain tea from the mountainous areas. A walk to the countryside smells of wild herbs and flowers, while you can use them on salads, in dishes or even you can drink them. In addition, Cretan also use hothouses to grow their own vegetables. The main vegetables are tomatoes, potatoes, cucumbers and cabbage.
Cretan gastronomy – simplicity is the key!
All these ingredients blend together and make the most delicious dishes you will ever taste! Starting with the most favorite dish, the Cretans cook meat in every way you can imagine! Here are the most popular ones that you should definitely try!
Cretan Pilafi is a delicious and traditional rice dish from Crete. It is cooking rice with various ingredients such as onions, garlic and spices, then simmering it in a flavorful broth until the rice is tender and has all the flavors. Some versions of the dish also include vegetables, such as carrots and peas and meat such as chicken or goat. The dish is often served as a side dish or as a main course, with Greek salad and some crusty bread. Cretan pilafi is a filling and nutritious dish, with a rich and comforting flavor that is sure to satisfy any appetite. It is a popular dish in Greek cuisine, loved for its simplicity and versatility.
For the meat lovers, Antikristo will blow your mind. Antikristo meat is a traditional Cretan delicacy that dates back to ancient times. Its name means "opposite" or "against the cross," and refers to the way the meat is cooked. The meat, usually lamb or goat, is skewered on a spit opposite to the fire. Thus, allows the juices to drip onto the coals and create a smoky flavor. The spit is then rotated slowly and continuously for several hours until the meat is perfect. The result is tender, juicy and full of flavor, with a crispy exterior and a succulent interior. Try it with traditional sides such as potatoes, Greek salad and tzatziki sauce.
You can check out a video of a food tour in Chania here!
Thirdly, Staka is a unique and delicious ingredient in Cretan cuisine. It is a type of butter that is made by slowly cooking butter until the milk solids separate and sink to the bottom. Staka is a base for many Cretan dishes, such as staka eggs, staka potatoes or rice. It adds a rich and savory flavor to any dish and its creamy texture is perfect for making sauces and soups. Ypu can also spread it on bread.
How about something sweet? Kalitsounia are small, savory pastries that are a traditional Cretan specialty. These pastries are typically a mixture of soft cheese (such as myzithra or feta), herbs (such as mint and parsley), and sometimes spinach or other vegetables. The filling is then wrapped in a thin, crispy dough and baked until golden brown. Kalitsounia can be a snack or appetizer. They can also be a sweet pastry, with a mixture of sweet cheese and honey. Kalitsounia are a staple of Cretan cuisine and their delicious, savory flavor is sure to please any palate.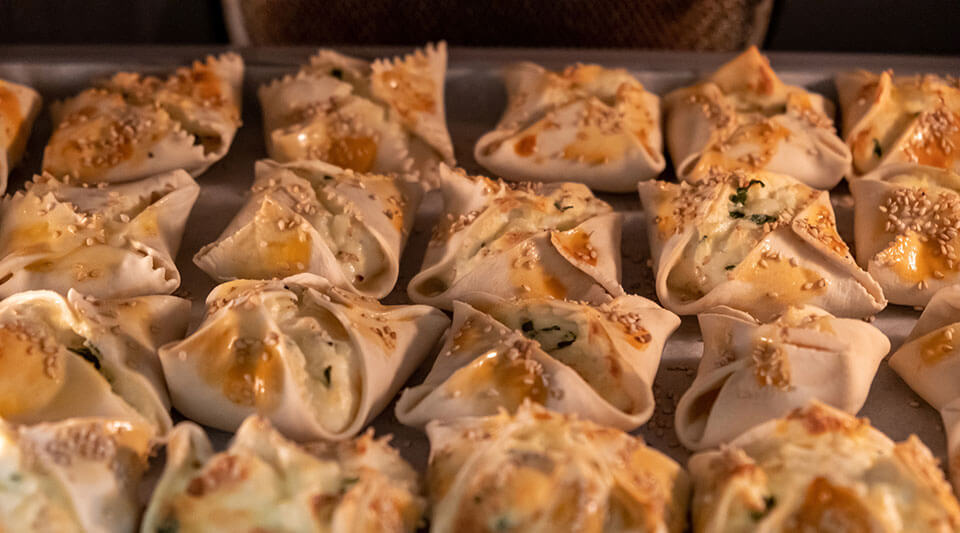 The island offers remarkable varieties of mouthwatering desserts and they have their roots generations before. When visiting Crete, do not forget to taste loukoumades or bougatsa pie! Even more, the traditional sfakiani pita will leave your taste buds tingling!
Traditions in Crete to keep in mind
Eating in Crete is not just about the delicious food, but also about the cultural experience. When dining, there are some traditions to keep in mind that will enhance your culinary journey. Firstly, it is customary to share dishes and order a variety of meze (small plates) and share them in the center of the table.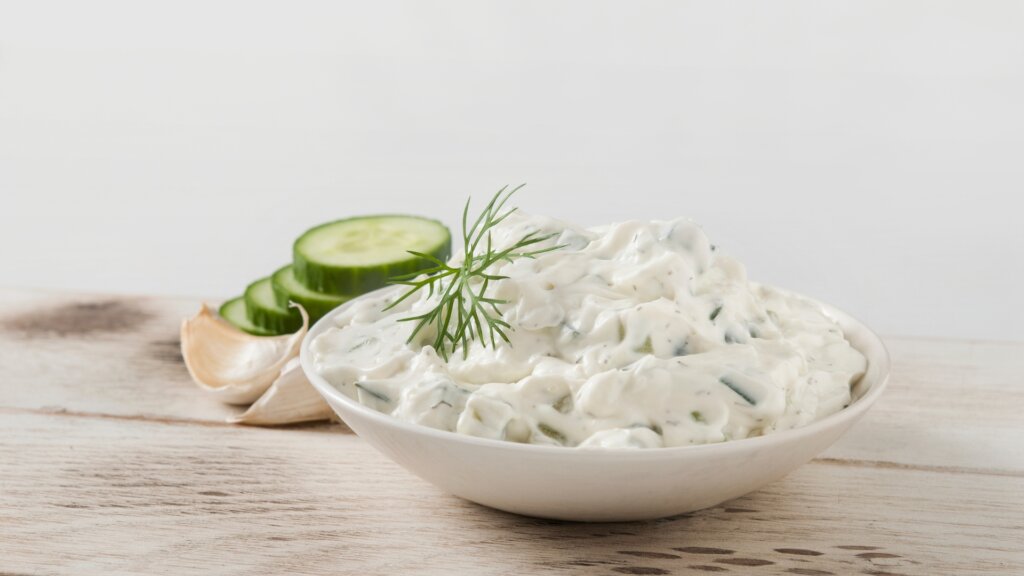 This allows everyone to sample a variety of flavors and dishes as well as it could be a great opportunity to bond with your friends. Additionally, it is customary to dip bread in the sauces or juices on the plate, as it is wasteful to leave any food behind. Furthermore, it is polite to accept any food or drink that hosts offer you, as it is a sign of hospitality and generosity. When it comes to alcohol, raki (a traditional Cretan spirit) could be a great digestive drink after a meal.
Finally, it is common to finish a meal with a dessert, such as yogurt drizzled with honey or a slice of baklava.
Taste Cretan gastronomy at Chrispy Waterpark Resort
And if you are wondering where you will find all these treasures, we have the answer! At Chrispy Waterpark Resort, we strongly believe that heartfelt hospitality goes hand in hand with great food. If you enjoy tasting Cretan cuisine, then in our restaurants you have the opportunity to eat your favorite Cretan dish! At our bars and restaurants, you can experience local Cretan tastes and live like a true local! At "Manolis" Greek Taverna, the a la carte tavern of our hotel, you will find Greek and Cretan specialities like Greek salad, tzatziki, gyros, vegetables filled with rice and many more! And what about seafood? Get the chance to taste local seafood dishes with refreshing wine from local vineyards.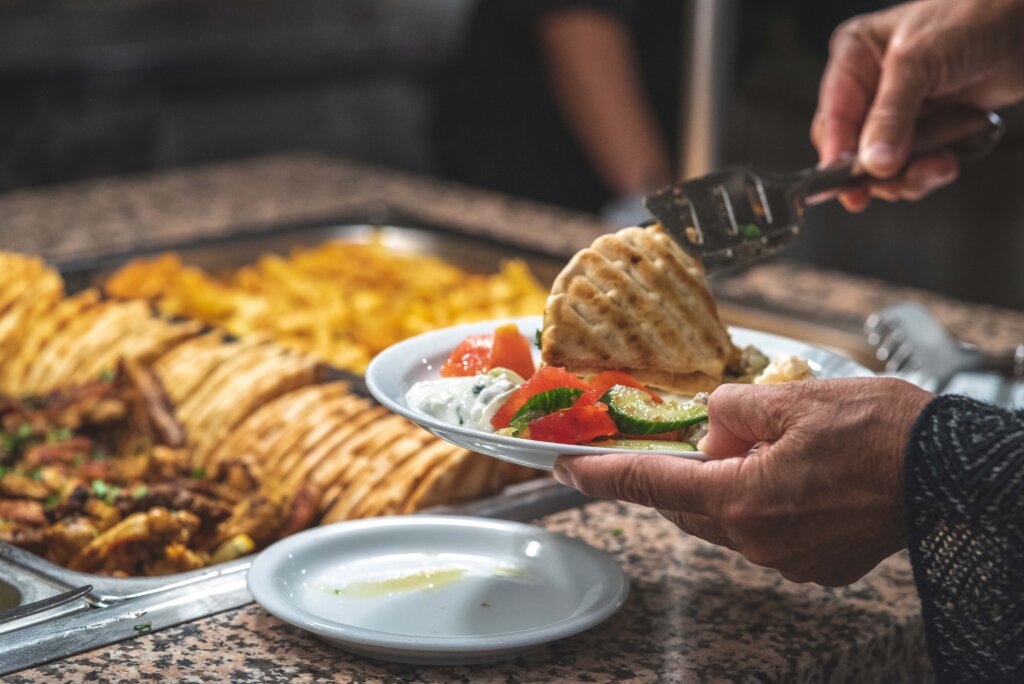 In conclusion, Cretan gastronomy holds a significant place in the Mediterranean Diet and the dishes that we taste today, trace back to thousands of years ago. Additionally, Cretan gastronomy promotes healthy living and an overall, better quality of life. Cretan have tried to keep the distinctive qualities of their unique, traditional cuisine and make them a way of life through the years. The experience of Cretan gastronomy will hold a special place in your heart.